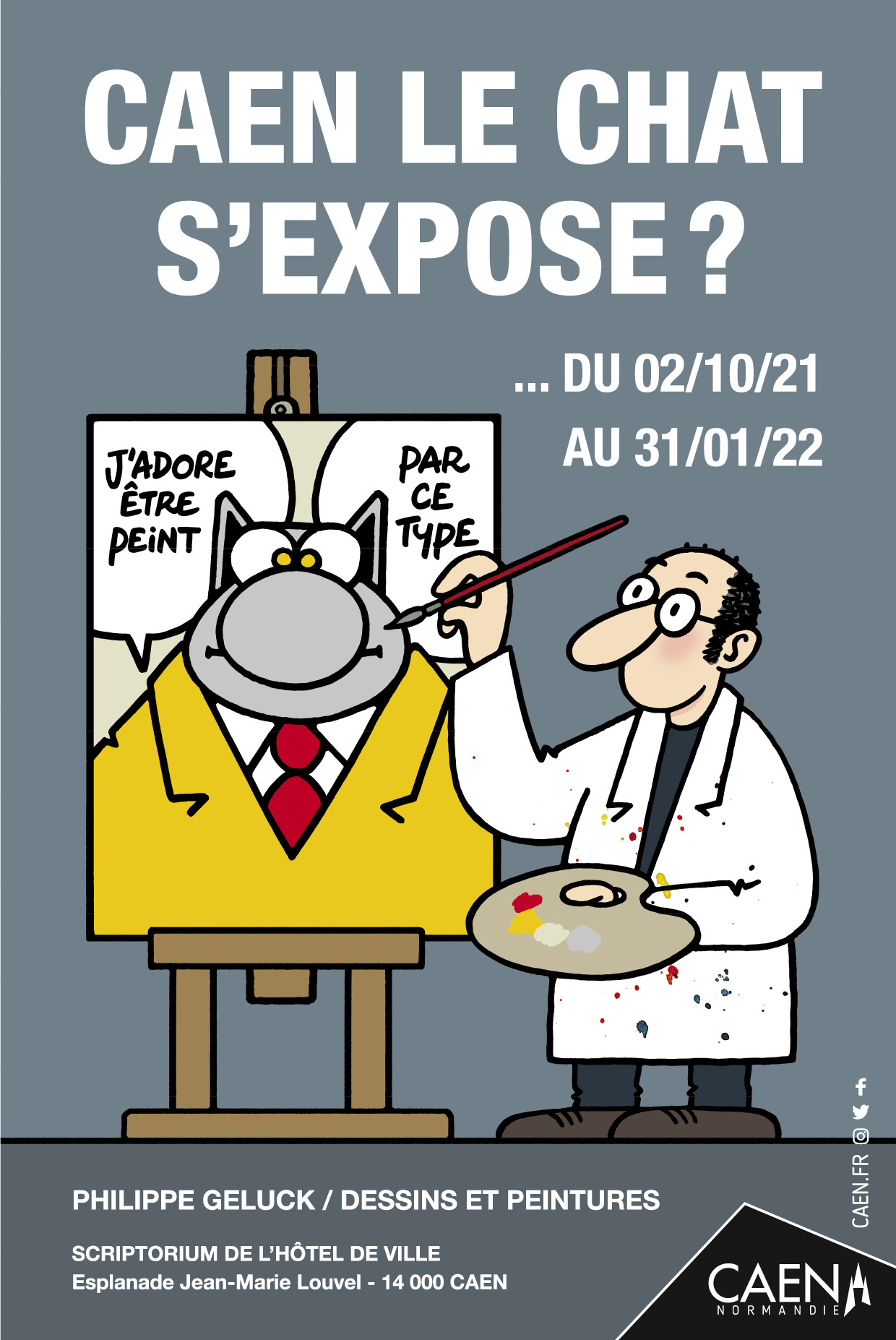 Le Cat Exhibition
Philippe Geluck


Drawings and Paintings
Scriptorium Room of Caen City Hall
When we first went to scout in the beautiful city of Caen, we were lucky enough to discover the Scriptorium room. We immediately accepted to present CAEN LE CHAT S'EXPOSE?, an original exhibition of drawings, silkscreens, paintings and other recent works. What a pleasure to collaborate with such a friendly, enthusiastic and responsive team!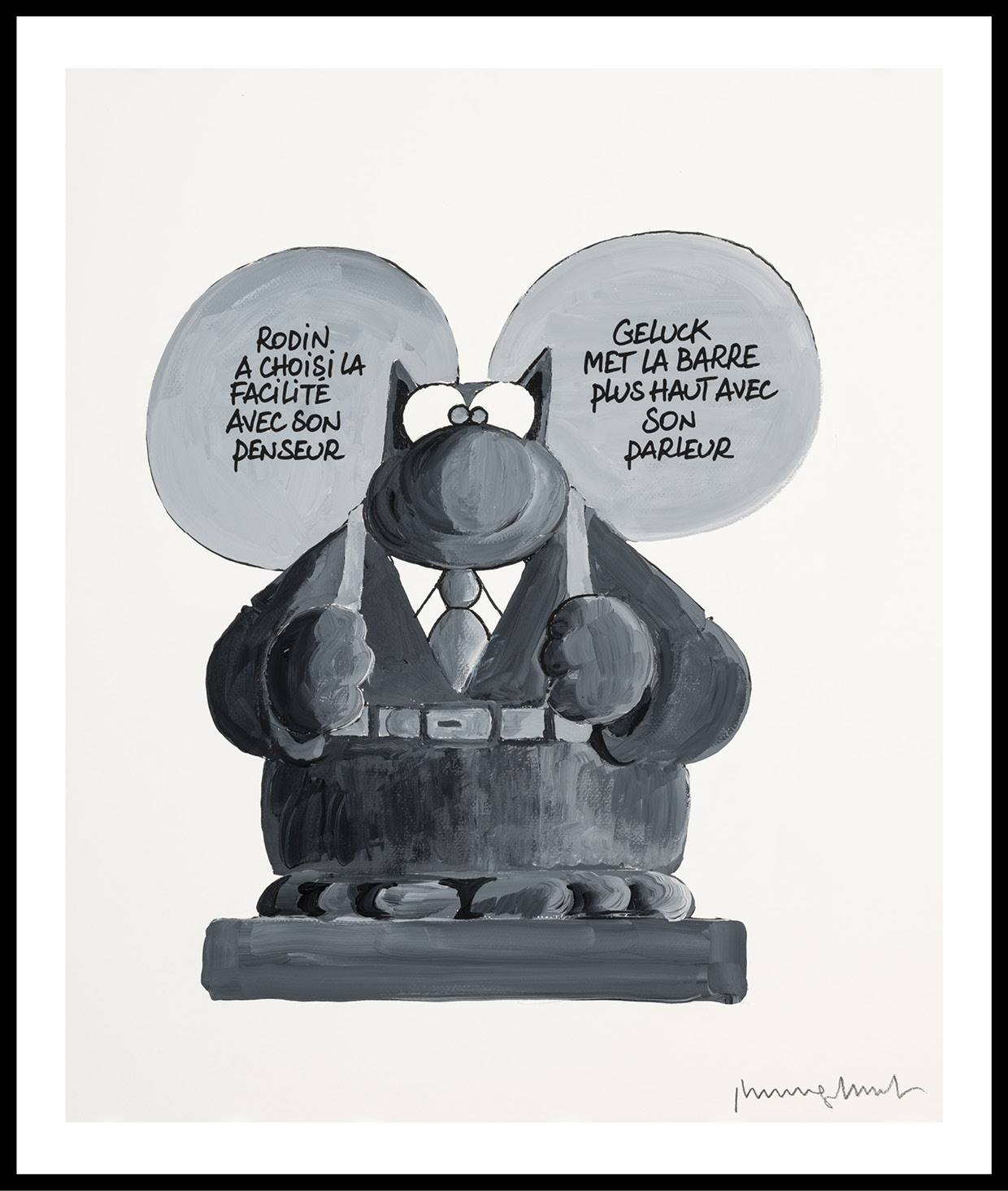 "Rodin took the easy way out with his Thinker
Geluck raised the stakes with his talker"
What will we discover in this 2021 exhibition? Nothing but recent works: acrylic drawings (see above) in relation to Le Cat Walks, Indian ink drawings (see below); paintings, smaller versions of the monumental sculptures made of resin and, of course, silk screens and numbered editions… .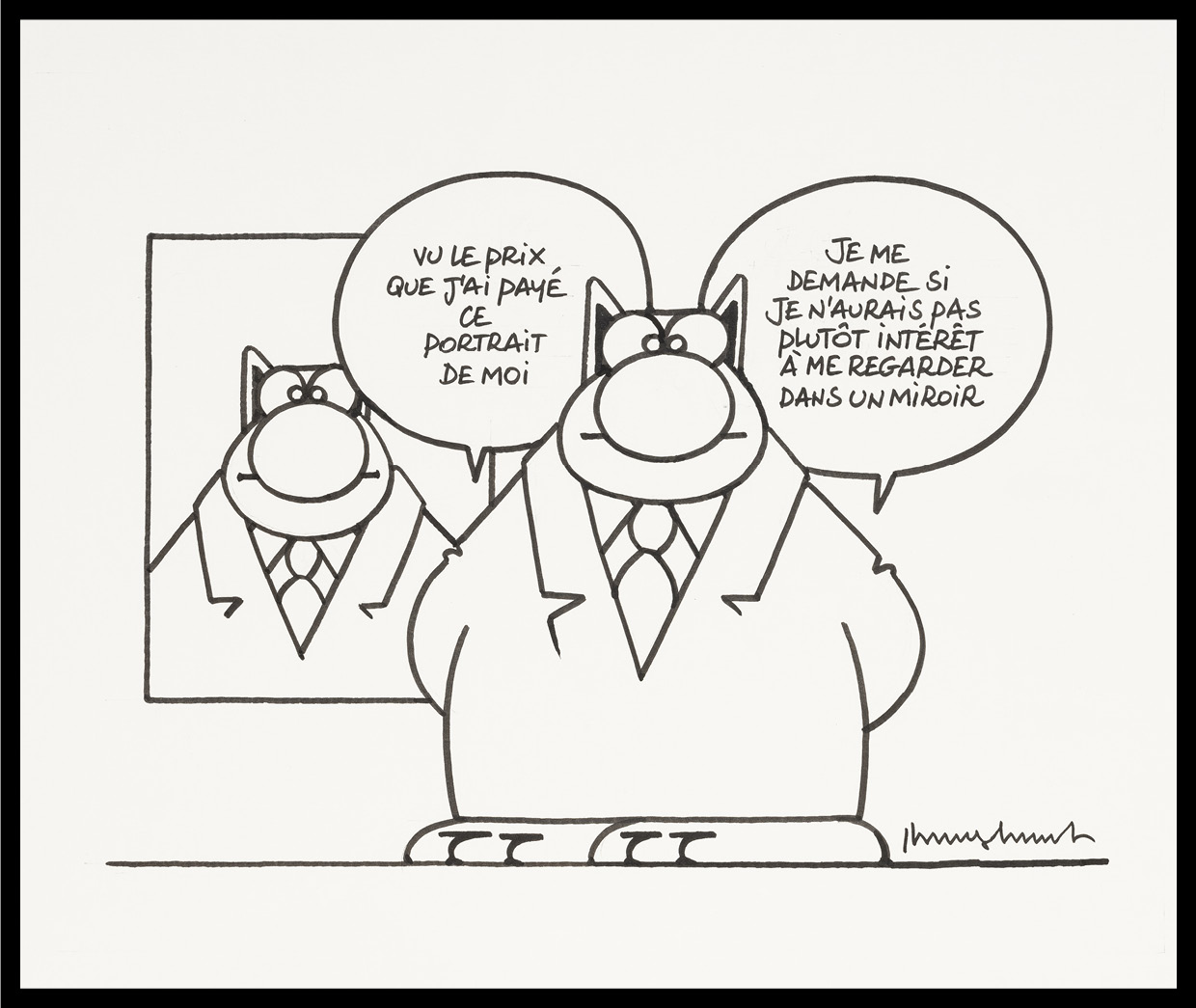 "Considering the price I paid for this portrait of myself
I wonder if I wouldn't be better off looking in a mirror"
During the whole of 2020, the artist put the confinement to good use: he painted and draw as he had never been able to do before… He thus produced dozens of paintings and drawings, sometimes in an unexpected style.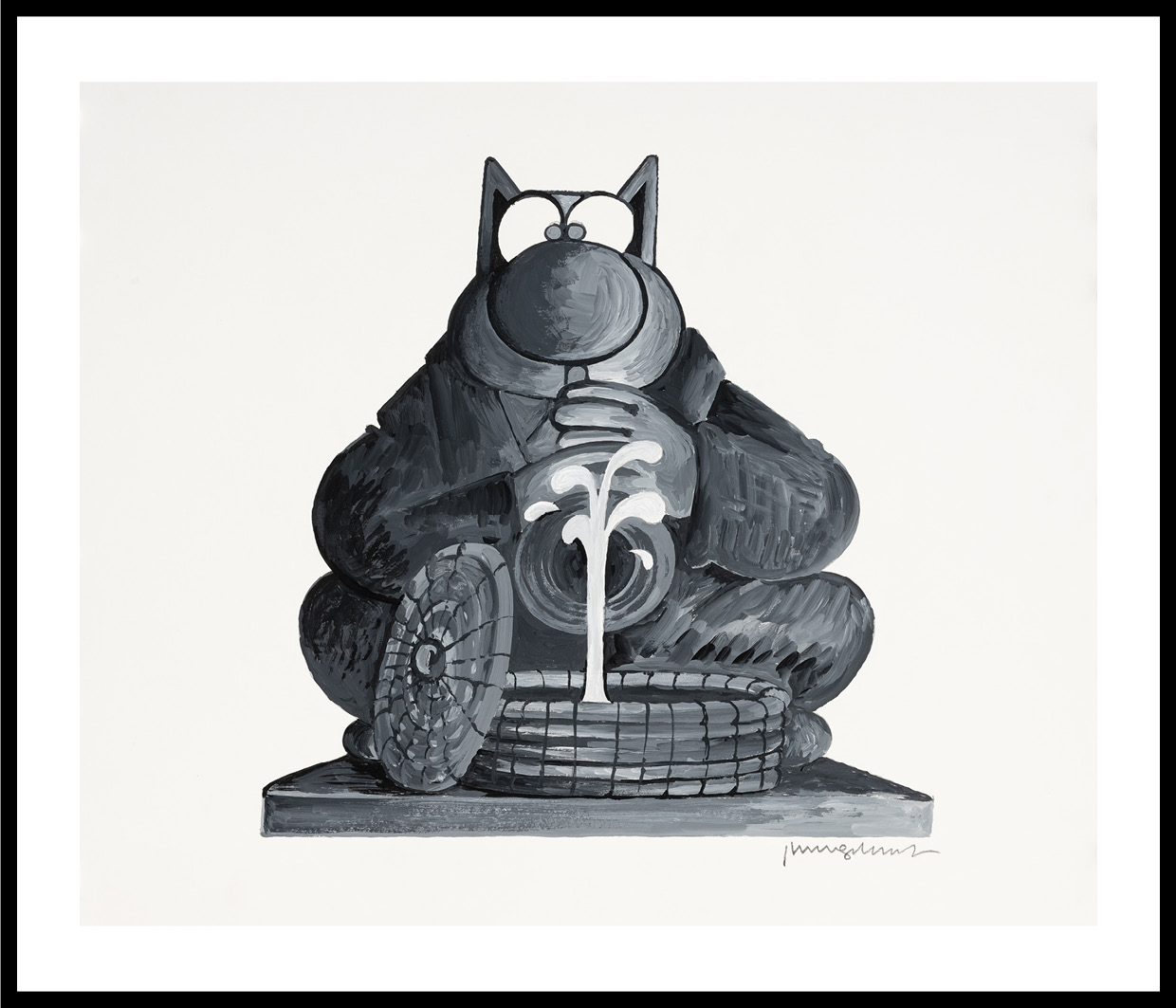 The exhibition «CAEN LE CHAT S'EXPOSE ?» is not just an extension of Le Cat Walks, it is totally autonomous. What links the two is obviously Le Cat, his creator Philippe Geluck, and a series of paintings and acrylic sketches which reference the sculptures … .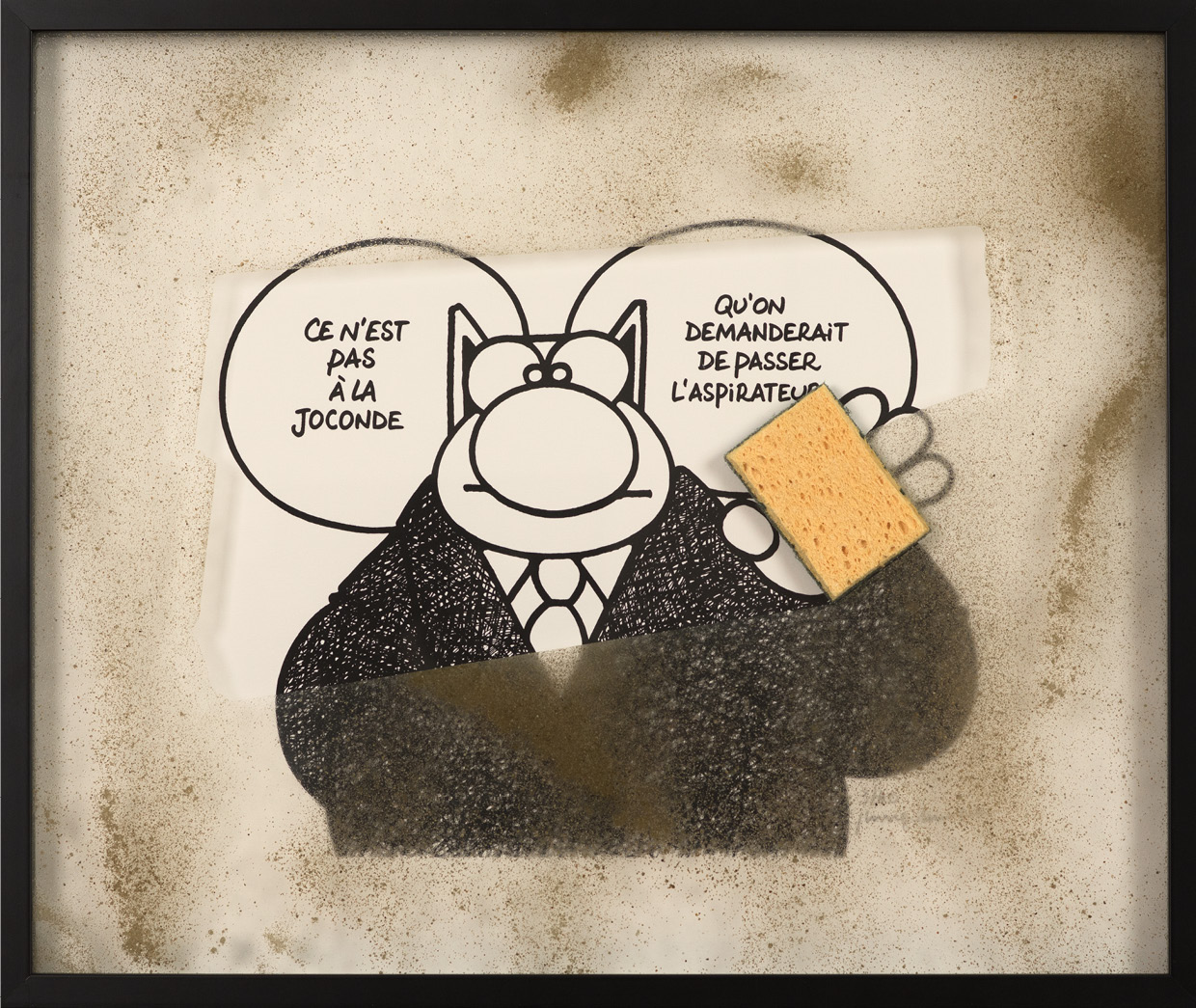 "They wouldn't ask Mona Lisa to do the vacuuming."
And Geluck continues to pay homage, parody and comment on the work of illustrious fellow artists. When Le Cat talks about art, Picasso, Buren, Soulages, César and a few others are never far away … .

"Power outage at the Soulages Museum
– Still looking good"
If you visit the Scriptorium room, you will also be able to admire one or two sculptures at their original size (50cm) as well as some video and sound works.
"You are here.
– News travels fast!"
And now we're not going to put any more lovely pictures on the app, because exhibitions should be visited. And the works are so much more beautiful in real life than in a photo!