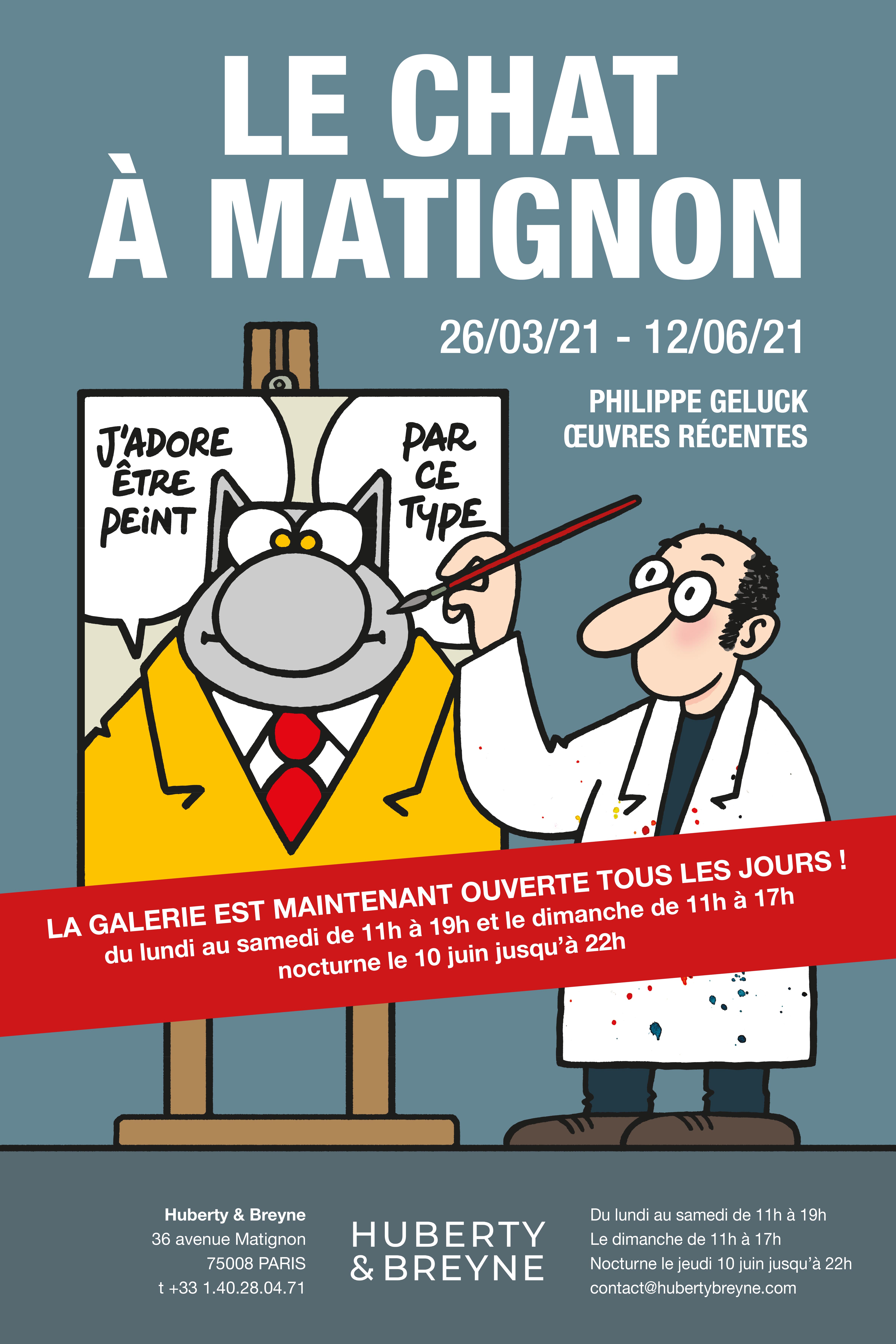 Le Cat à Matignon
Philippe Geluck


Recent works
CARTOON:
I love being painted


by this guy
Monday to Saturday from 11h to 19h
Sunday from 11h to 17h
Philippe Geluck and the gallery owners Alain Huberty and Marc Breyne go back a long way. They have worked together at many prestigious art fairs, such as the Brafa, Art Paris, or Art élysées … . Philippe Geluck has also held important exhibitions in their galleries in Brussels and on the rue Saint-Honoré in Paris. But this is the first time that the artist has hung his works on the walls of 36, avenue Matignon.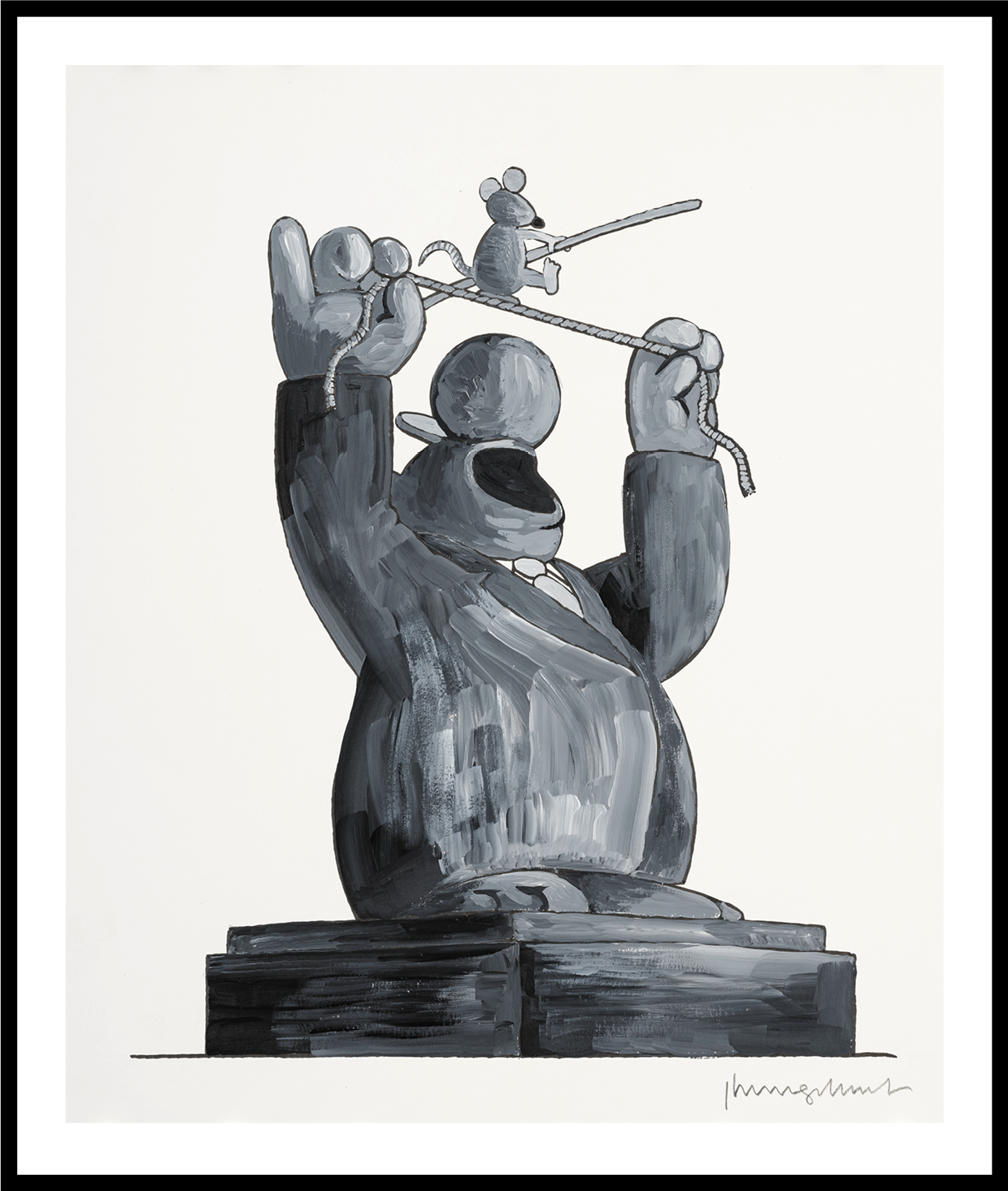 So what will we see in this 2021 exhibition? Just recent works: acrylic paintings (above) with a link to Le Cat Walks; ink drawings (below); canvasses and reduced-scale resin versions of the monumental sculptures (further below); and of course screen prints and numbered editions … .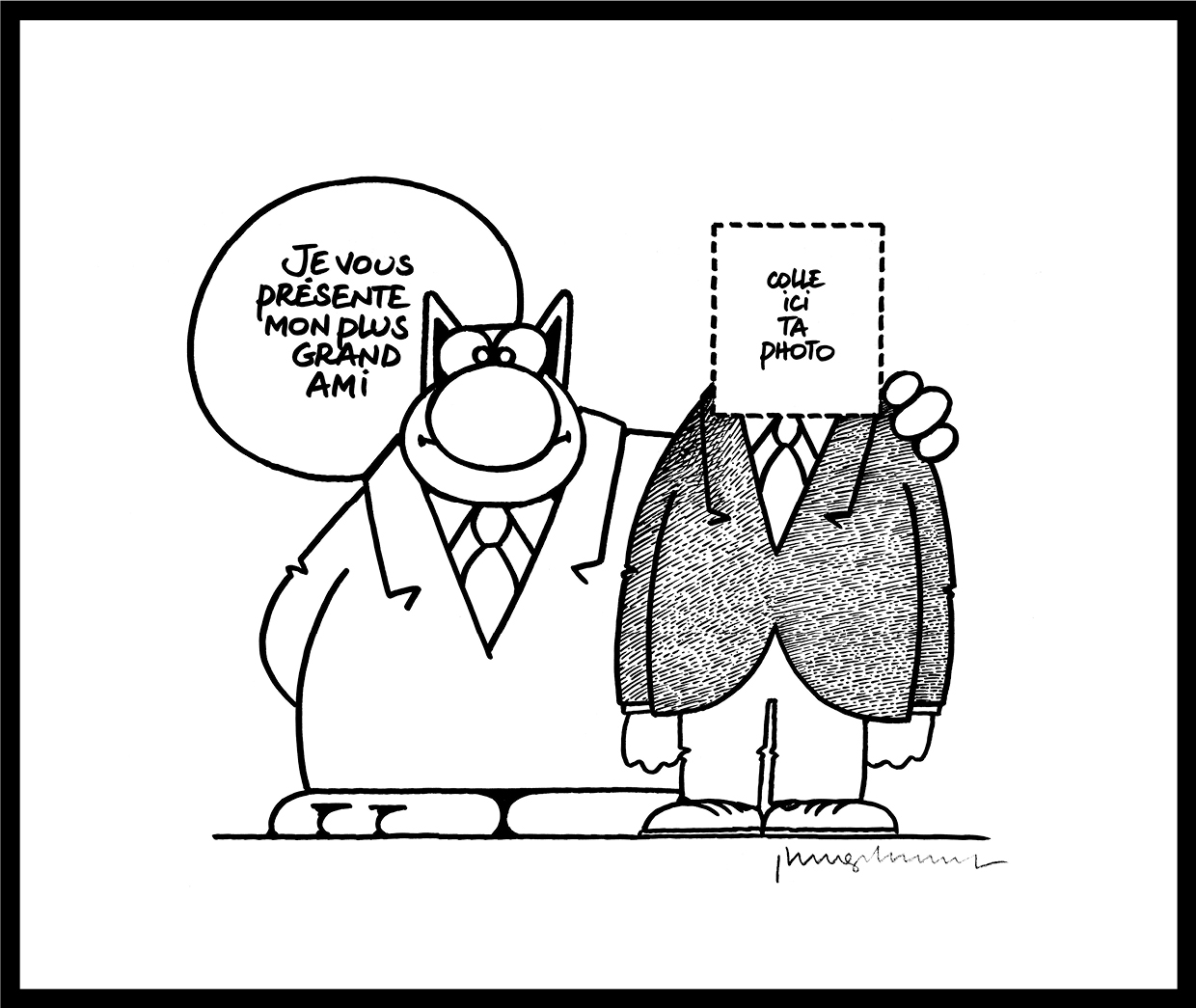 Let me introduce you to my very best friend


Stick your photo here
During the whole of 2020, the artist took advantage of the lockdown to paint and draw, something he'd never been able to do before. He produced dozens of paintings and drawings, sometimes in styles which one wouldn't usually expect from him.
Le Cat à Matignon is not just an extension of Le Cat Walks – it is totally autonomous. What links the two is obviously Le Cat, his creator, and a series of paintings and acrylic sketches which reference the sculptures … .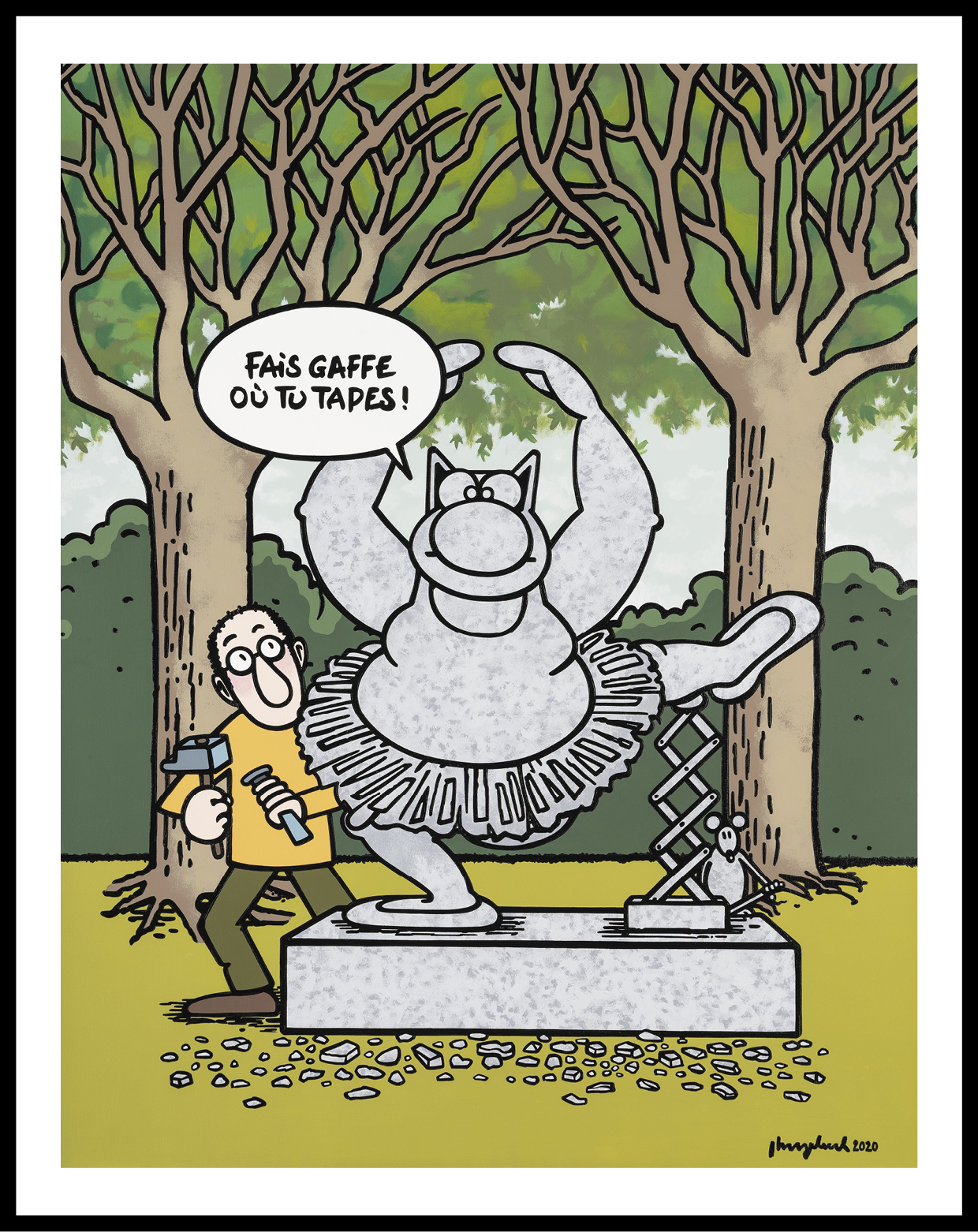 Watch it


with that chisel!
And Geluck continues to pay homage, parody and comment on the work of illustrious fellow artists. When Le Cat talks about art, Picasso, Buren, Soulages, César and a few others are never far away … .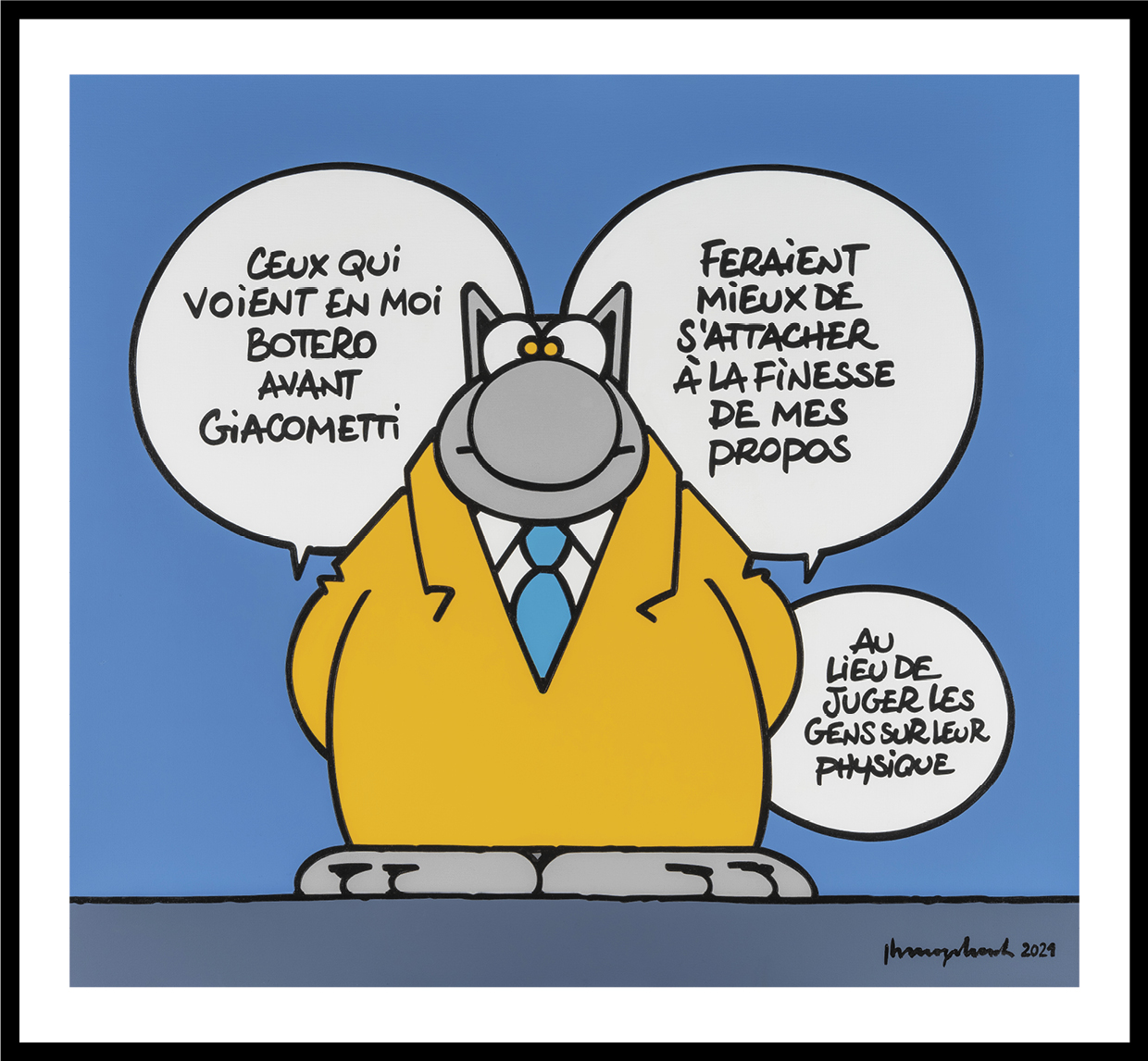 When they see me, those who think of Botero rather than Giacometti
Would do well to look at the finesse of my words


Rather than judging people by their physical appearance
If you visit Huberty-Breyne, you will also be able to admire one or two sculptures at their original (50cm) and medium (110cm) sizes, like the one people can touch on the sidewalk outside the gallery.
And now we're not going to put any more lovely pictures on the app, because exhibitions should be visited. And the works are so much more beautiful in real life than in a photo!