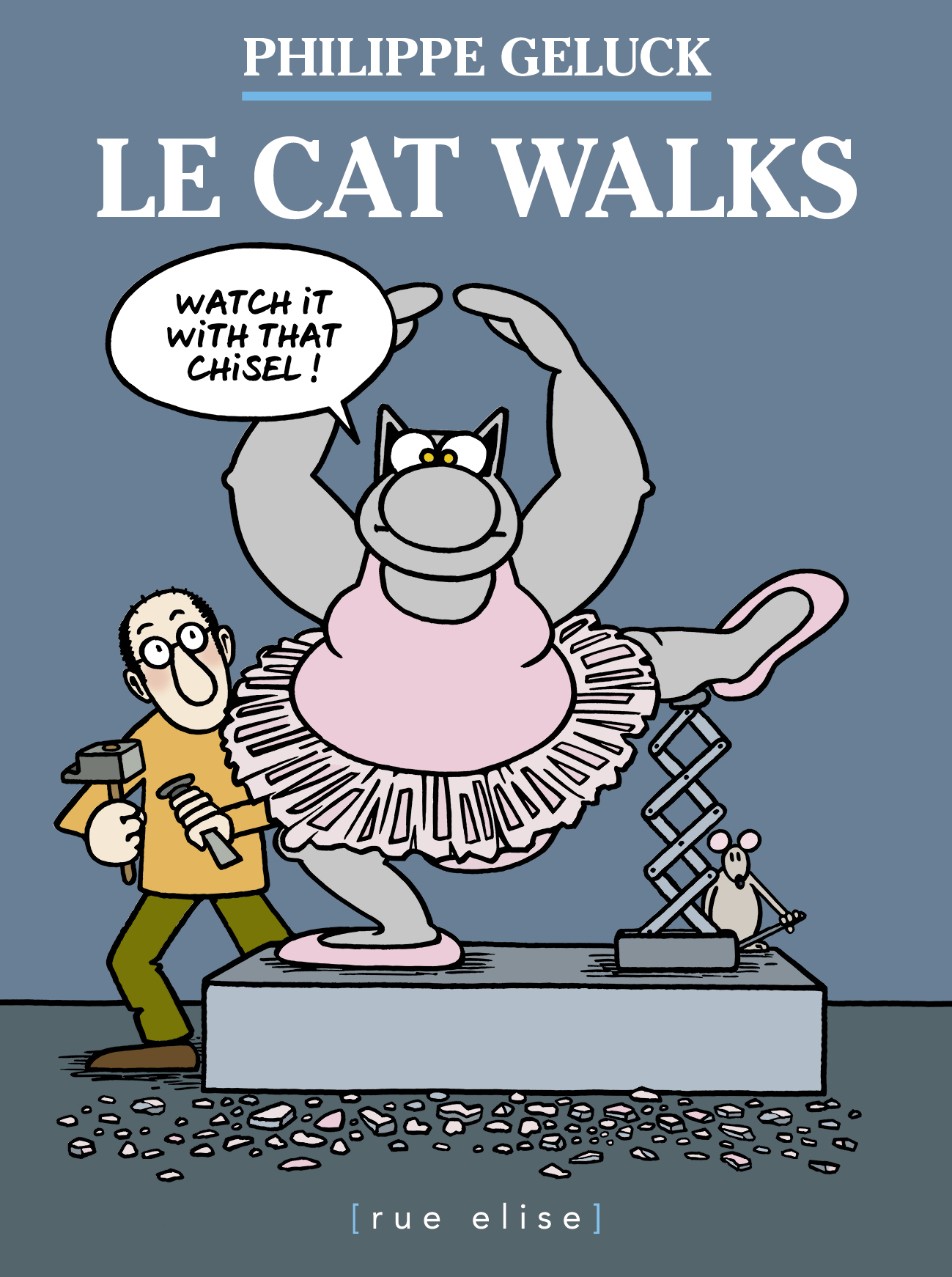 There are two versions of the catalogue in English:
the one published by Editions rue Elise (available on our e-shop)
and the personalised version (with your name and photo),
printed by Snel Grafics available here, where everything is explained in detail.
AN EXCEPTIONAL CATALOGUE-ALBUM
FOR AN EXCEPTIONAL EXHIBITION
Jumping out of his comics, the most popular cartoon animal has invaded the most beautiful avenue in the world. 18 years after his great exhibition at the National School of Fine Arts, Philippe Geluck has been invited (just as Fernando Botero was in 1992) to the most prestigious place in the French capital. For an awesome exhibition where Le Cat, as usual, makes us laugh, think, ask questions, and feel for deeply important issues – which of course he does with his famed lightness of touch.
So where did Geluck's taste for sculpture come from? When and how did Le Cat make the move from 2D on paper to 3D in sculptures? What tales do these 20 sculptures tell? Where do painting and sculpture fit into the life of this cartoonist? Has humour always existed in art for thousands of years? How do you make a huge bronze Cat two metres high weighing a tonne? If you add the 300 documents never before published (120 photos and 180 cartoons and drawings), what you get is a work of rare intensity and variety.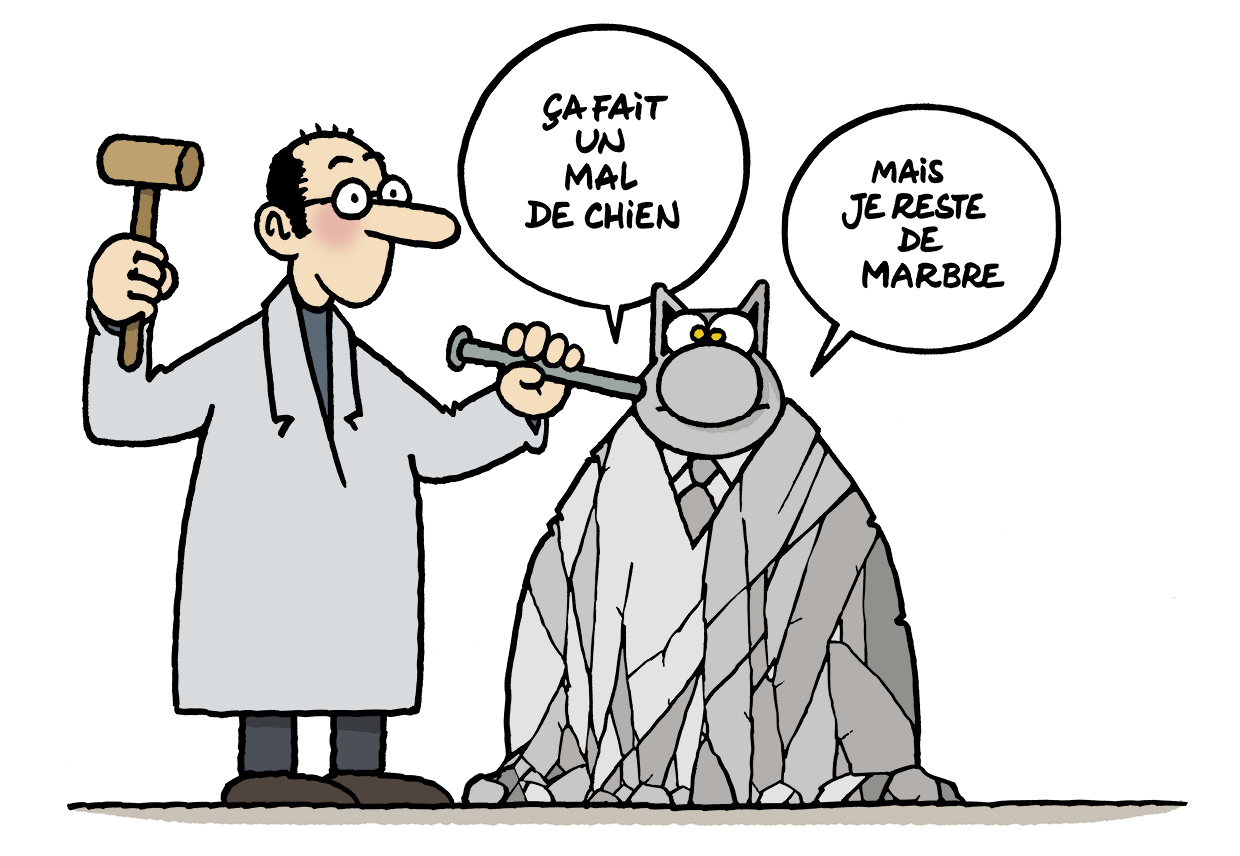 "That hurts like hell
but I remain stony-faced"
This hybrid album reveals the out-of-the-box journey of a shape-shifting artist, from the theatre to sculpture – taking in television, radio, writing, press illustrations, comics, cartoons and painting.
Geluck surprises and attracts a bigger and bigger audience in each of the disciplines he practises. Over 38 years, Le Cat has entered the hearts of every generation through his affability, humour, humanism, and his unique quality of dealing with the darkest of subjects while never being insulting or hurtful.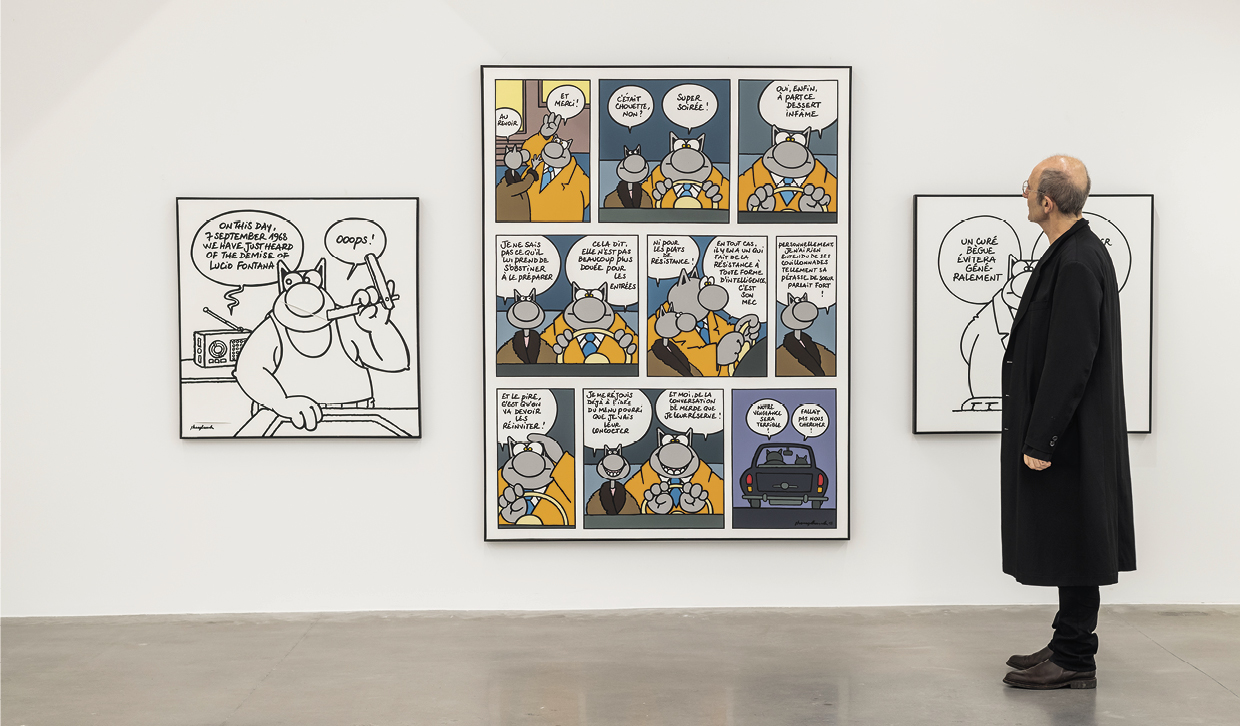 After Paris, the 20 sculptures will be exhibited in Bordeaux, Caen, and then another 10 French and European cities …


and will end their journey in Brussels for the opening of the 'Museum of Le Cat and Humorous Art'.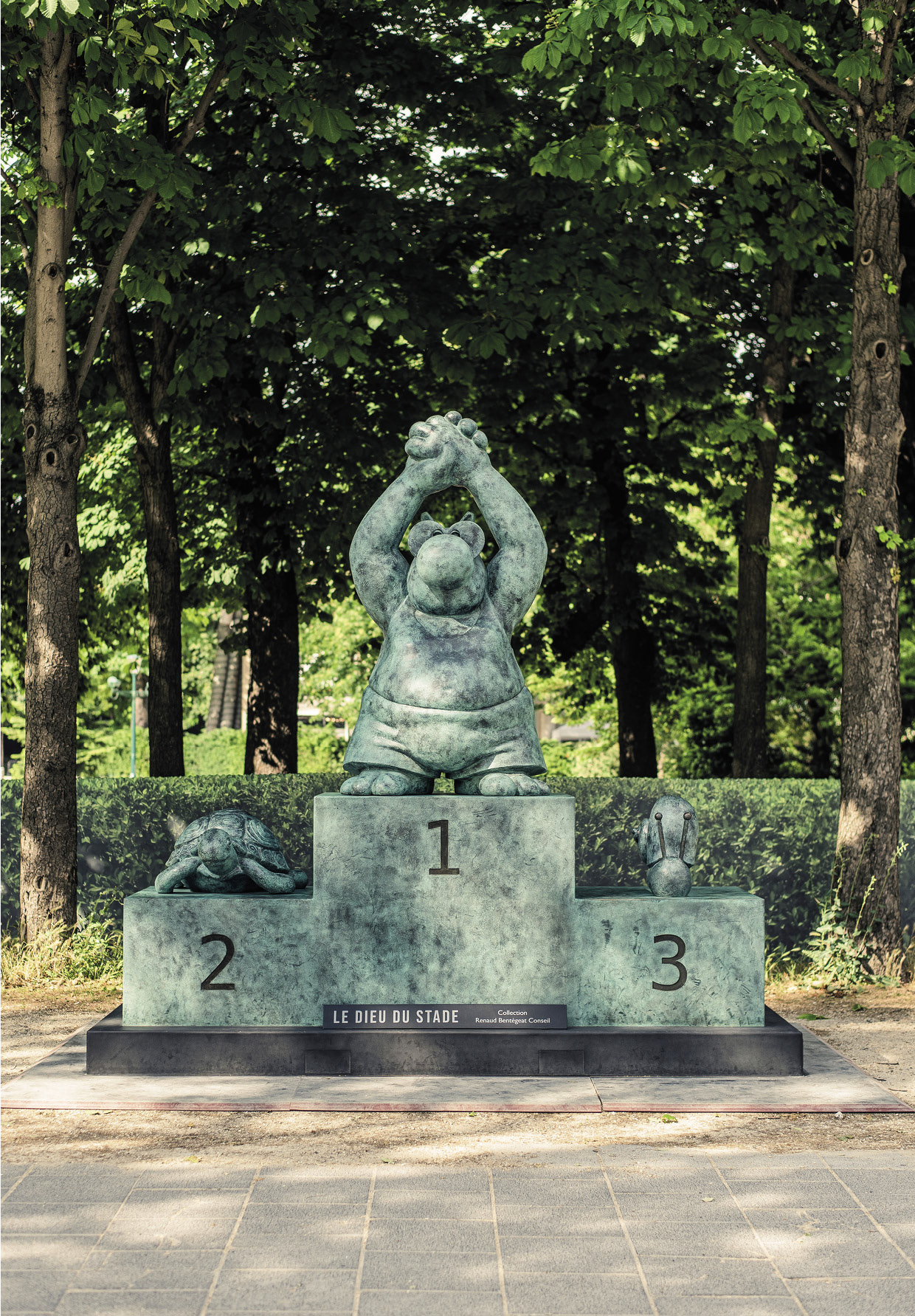 In one of the 20 sculptures, Le Cat is shown as Atlas, kneeling and carrying an enormous sphere on his shoulders. The sphere is stuffed with crushed plastic waste. Just like the giant in Greek mythology condemned by Zeus to carry the celestial heavens, Le Cat appears here to be bearing the weight of human folly.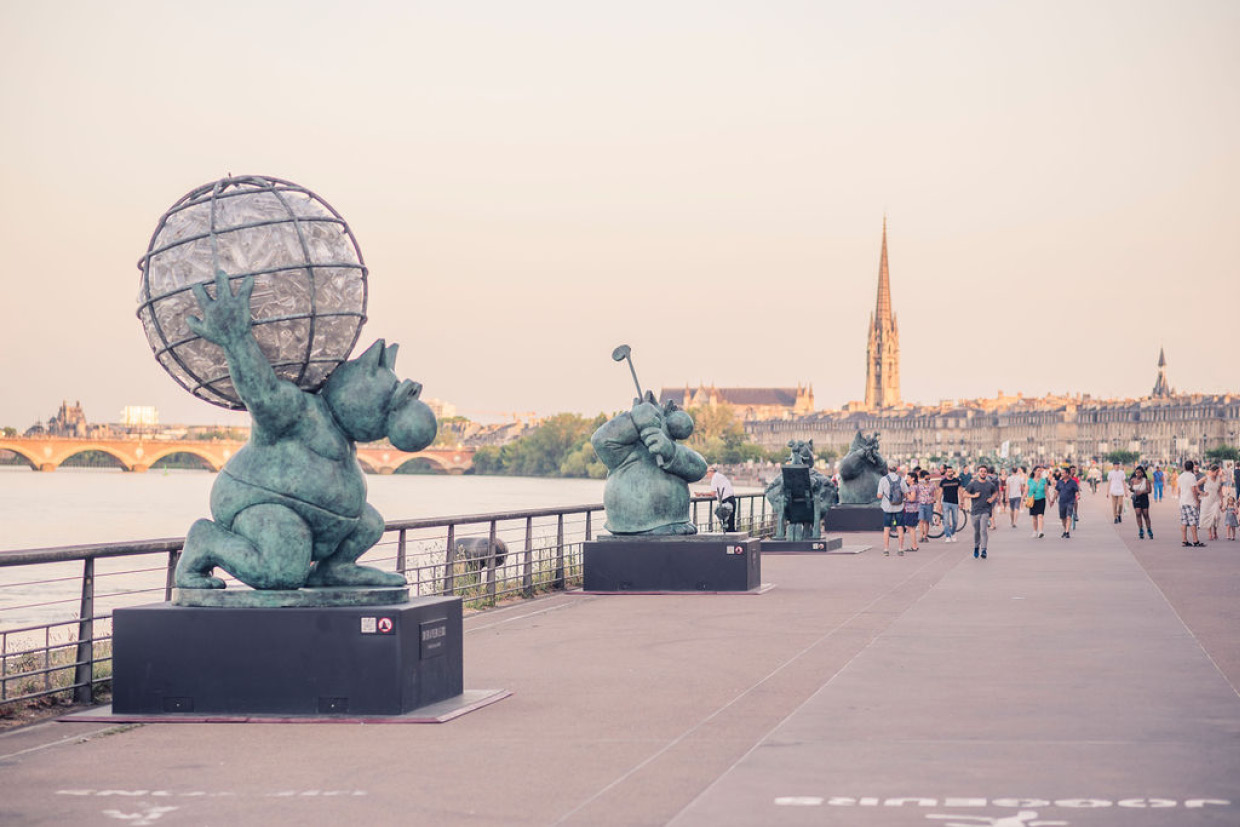 In another lighter and more poetical sculpture, Le Cat is playing the flute. But the instrument is the branch of a tree on which a bird is perched, singing its heart out. Hence the name of the statue (and its pun) 'The Magic Flewt'.
And there are another 18 sculptures that visitors can discover – in a public space outdoors.
How to make a huge bronze Cat?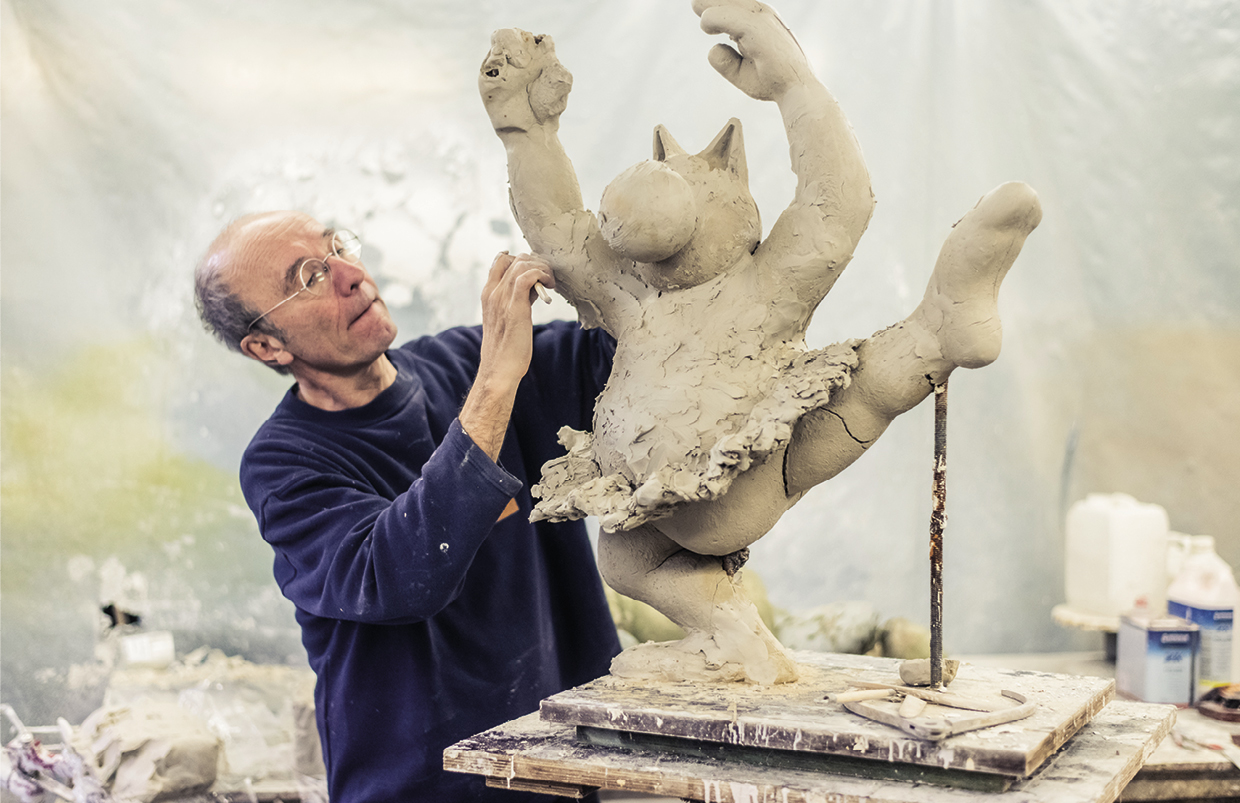 First, take a tireless Geluck, add his 'sculpture-brother' François Deboucq, mix them with the master founder Jo Van Geert, and leave them for two years. This is the bunch who decided to produce 20, 2-metre, 1-tonne sculptures. As they go through the catalogue, readers will be immersed in the mind who masters his subject from start to finish – the initial idea, the discovery of modelling it in clay, the emergence of a giant Cat, the pouring of bronze at 1200°C, the assembling of all the parts, and finally attaching the finished sculpture to its base, carved, patina-ed and ready to go.